More transparency demanded, leadership questioned after SPJ board conference call
A SPJ national board meeting on June 1 became contentious during a discussion about appointing a committee to conduct a search for a new national executive director. Afterward, board member Michael Koretzky called for the president's impeachment on his blog.
The SPJ D.C. Pro Chapter led an ad hoc group to write a letter to the national board calling for transparency throughout the process of selecting an executive director, but not for impeachment of President J. Alex Tarquinio. The letter also expressed concern that the board meeting was not conducted in "a collegial, collaborative or open way."
Here's the link to the letter:
SPJ Local Leaders Tell National Board of Transparency, Leadership Concerns
Alison Bethel McKenzie resigned as SPJ executive director in late April. The SPJ website posted a brief, unattributed statement that did not explain the circumstances of her resignation. Tarquinio later posted about the resignation on her blog, but some chapters — including some in Region 8 — did not think SPJ members were told about the resignation with the transparency that is a key principle of SPJ"s own code of ethics.
Tarquinio yesterday posted on her blog about the board's approval of an executive director transition plan: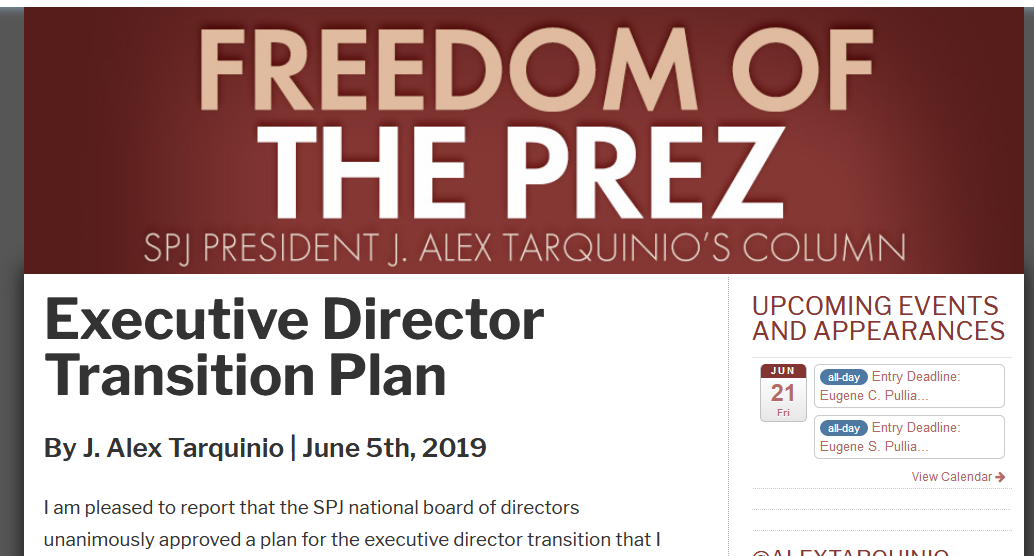 Meanwhile, the Columbia Journalism Review has posted an article about the controversy that includes a video clip from the board meeting:
https://www.cjr.org/united_states_project/spj-conference-call-impeachment.php.
The Red River Report will post more details as they become available.
---
Defending the First Amendment and promoting open government are more crucial now than ever. Join SPJ's fight for the public's right to know — either as an SPJ Supporter or a professional, student or retired journalist.
---